MSA AWARENESS WARRIORS ZOOM BACKGROUND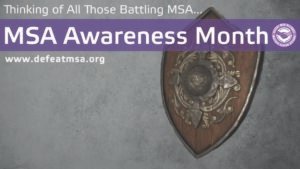 USE ZOOM? DOWNLOAD A BACKGROUND WHICH HONORS ALL THOSE BATTLING MSA FOR MSA AWARENESS MONTH!
Defeat MSA Alliance and MSA United International Consortium Celebrates World Rare Disease Day on February 28, 2020 In...
Kimberly S. Bohannon was a caregiver to her husband Steve, who passed from MSA at the age of 49. She regularly writes...