MSA AWARENESS WARRIORS ZOOM BACKGROUND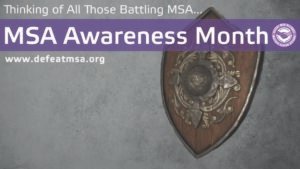 USE ZOOM? DOWNLOAD A BACKGROUND WHICH HONORS ALL THOSE BATTLING MSA FOR MSA AWARENESS MONTH!
Panel 1: Speech & Swallowing - Jennifer Kileny, SLP and Rebecca Wallace, SLP
DEFEAT MSA UNITED FACEBOOK GROUPS  & VIDEO CHAT SUPPORT MEETINGS GUIDELINES (These policies are subject to change...
Caregiver Blog Post #2 The road to diagnosis... Are we there yet?...No Now?...No When are we going to get there? Said...